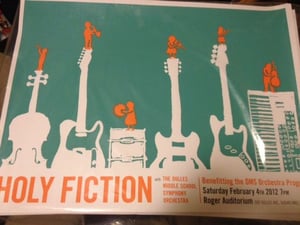 $

20.00
This 18x24 poster is a 3-color hand-screenprinted design by Eric Castorena. Each poster is hand numbered (yes we wrote the numb ers) and signed by the designer. This poster was part of the Orchestra Benefit show the band played. Even if you couldn't make it, be a part of it, with one of these amazing posters.
The poster is shipped in a hard plastic tube, wrapped and protected by brown paper and padding. Shipping is included in the price.
Once they are gone, they're gone!